One of the reasons why I am skeptical that gold has started a new bull market (ie. multi-year) is the USD and its status. Currencies and gold work off amazingly similar cycles and thus three closely related instruments are gold, the USD Index and the CADUSD pair (Canadian Dollar). The cycles I am working with are essentially 4, 8 and 16 year cycles for all three instruments. And in essence, gold rarely moves in long term trending advances without a weakening US dollar as a backdrop.
Here is a long term monthly analysis of the USD Index. Note sixteen year highs were in 1985, 2001 and now we are approaching another into 2016-2017 for the USD Index.
Measuring off the 2001 high, we have roughly a 14-15 year time span to the 2015 highs, short of the typical 16 year cycle period. A second issue is that the 4 year high for the USD Index most likely arrived in 2013 and if so, the next 4 year high is likely still ahead.
The weekly chart looks as follows.
I should mention that I use two nominal 24 month cycles per 4 year cycle in this model and I find it helps to solve the peak analyses for gold and the USD Index. Looking at this second chart, it suggests that at least one more high is due for the USD Index (16 year cycle peak).
In the latest postings on gold we discussed the likelyhood of a 4 year cycle high for gold that was due imminently (by March-April). This is what a long term chart looks like if we've seen such a high. It doesn't guarantee new lows for gold, but certainly a good correction is still due out of such a potential high. Here is the long term monthly.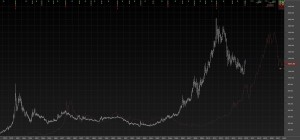 And here is the weekly. Again a decline out of such a high is unpredictable in terms of targets, but new lows are very possible for gold. The burgundy line below price is the 16 year FLD. As suggested last month, this FLD is marking the timeband for the 4 year cycle high. It is not predictive to the week or month, but it is hinting that such a peak is due.
And finally we should look at the CDNUSD pair. The Canadian dollar is important to follow here for clues to when a new trending move has started for gold (and a major correction for the USD is underway). I'll be watching to see if the Canuck buck can retest it lows this year (or next), before we see the 16 year lows for this currency. The last 16 year low for the $CDN was in 2001. In the analysis below Sentient's initial cyclic model setting was used and three 16 month cycles per 4 year cycle resulted. If the $CDN makes a sustained break above the 16 month FLD, it would suggest long term cycles have bottomed. The January 2016 low seems early for this important trough and time will tell.
So in sum, I still expect an important top for gold and a correction to eventually test last year's lows. And new highs for the USD Index are likely before a trending bull market can really get going for gold.
Good luck. Good trading.
cheers,
john